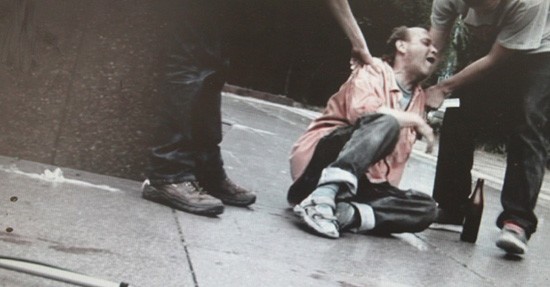 ISSUE NO. 5 | BODY MASS INDEX
11/9 (Berlin Wall) and 9/11 (Twin Towers).
The consciousness of a generation shriveled to a palindrome: 119911.
Peter Schlechter and Sebastian Lechner are kids of the double collapse.
BOOM BOOM.
Finance orgasms & capital flow on one hand, a strange pain which has no symptoms, on the other. Capital is glamour. Is a new skin, a radiant face, a delicate waist. A load of fresh meat from the industrial production plant. Lurking in the sun: This pain that takes up the stomach, the throat, eventually the whole body. Revealing an old, familiar feeling. Obscene almost. Something is essentially wrong. Limbic hijacking vs. self-control.
The creatures exhibited are desolate, decaying, impaled. They refrain from integrity, are not the sum of their organs. They hula hoop along the tabooed green line. Its vegetation: blasphemers, stateless, gypsies, prostitutes, orphans, hippies, bums, junkies. Joyfully they hold up the mirror to a sparkling cake hole called society. What is allowed to be shown, what is allowed to be seen?
Piss, assfuck, rotten meat from human to horse. Two clownish whistle-blowers belch loudly Alaaf into Lenten season. Welcome to the living. It seems to be amusing here.
Exhibition: 09.03. - 17.03.2013
Installation view